This post may contain affiliate or advertiser links. Read my full disclosure policy here.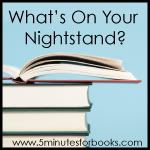 5 Minutes for Books hosts a monthly meme called "What's on Your Nightstand?" so here's what is currently next to my bed, after the changeover from last week.
My friend Hope and I are really enjoying the book Finding Favor with the King (Tenney) and working through the chapter-a-week together. I've temporarily 'shelved' all of my fiction because I'm feeling a little more pinched for time, working on lesson plans and reviews, and trying to focus on getting ready for some upcoming trips with my hubby...with the intention of saving books to read while we're on our trips.

I've decided it's time to empty some long-overdue books from my nightstand (and return them to friends), so in the next month I'm determined to read some (if not all) of the following books:
Blue Shoes and Happiness

- Alexander McCall Smith (plane read hopefully)

The Lucky One

- Nicholas Sparks


The Choice

- Nicholas Sparks


A Bend in the Road

- Nicholas Sparks

Bringing up Boys

- Dr. Dobson

Grace Based Parenting

- Dr. Tim Kimmel

Here's the current stack next to my bed:
The Mentoring Mom: 11 Ways to Model Christ for Your Child - Jackie Kendall
Finding Favor with the King: Daily Inspirations- Tenney
Finding Favor with the King - Tenney