This post may contain affiliate or advertiser links. Read my full disclosure policy here.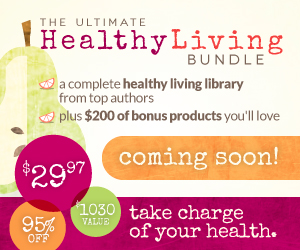 I've shared this Ultimate Healthy Living Bundle with you all before and am so excited to let you know how you can
get the upcoming Ultimate Healthy Living Bundle for FREE
. (Seriously - this is such a great deal!).
In just a few weeks, the new bundle sale will be launching and it's such a great opportunity, I want to make sure you don't miss it. This bundle will be full of ebooks, ecourses and SO much more to help your family with natural living, real food, budgeting, and (my favorite) essential oils. There will also be bonuses and freebies you won't want to miss.

This upcoming Ultimate Healthy Living bundle is valued at over $1,000!!
Here's how you can
get it for FREE
!
(I promise - it's real!!)
Follow this link and enter your email address. This is a part of the refer-a-friend program. You will receive a special link just for you.
Share your special link with your friends via Facebook, email, Pinterest - whatever way you can best get the information out!
For every friend that signs up for notification on the Bundle email list, you'll receive $5 off the Ultimate Healthy Living Bundle when it goes on sale.
Refer 10 friends and you get the Ultimate Healthy Living Bundle for FREE! This is not based on sales - so no purchases are necessary. (How great is that?)
And your friends - well, they'll receive their own referral link and they can earn a free bundle too. Yay!
Sign up here
for your own Ultimate Healthy Living Bundle referral link and start earning your free bundle now. You will love all that is included in it - and you will be the first to know when it goes on sale!