This post may contain affiliate or advertiser links. Read my full disclosure policy here.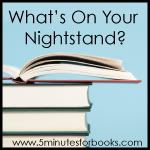 5 Minutes for Books hosts a monthly meme called "What's on Your Nightstand?" and here's what is currently next to my bed...sitting on an end table...hidden high up away from sticky fingers...
The sickies were running rampant through our house last week, so finding a spare moment to read was a little difficult, what with cleaning up yuckies and all (thank the Lord for my Mom who helped me wade through the gazillion loads of laundry that were necessary). My weekly phone call with my friend was postponed until this week and we'll just do a two-week summary of
Finding Favor With the King
.
I'm continuing to read
The Mentoring Mom
, but the style of writing is a little difficult for me...not quite structured (I admit I'm a structured girl), a lot of bouncing around from topic to topic, story to story and not a lot of "hands-on" stuff...and I'm looking for concrete at the moment. But it does ask some deeper and thought-provoking questions, so I'm sticking with it at the moment. :)
I did finish reading
The Apothecary's Daughter
by Julie Klassen and loved it. Klassen has a unique way of 'teaching' about a particular time/trade in history - this time obviously about the apothecary business. I loved her first book
Lady of Milkweed Manor
... and now have two books that I'd like to add to my 'collection'.
Lawana Blackwell has a new book out
The Jewel of Gresham Green
that I picked up from the library this week and am anxious to get started on - love the cover! *grins*
Here's the current stack next to my bed:
The Mentoring Mom: 11 Ways to Model Christ for Your Child - Jackie Kendall
Finding Favor with the King: Daily Inspirations- Tenney
Finding Favor with the King - Tenney

Blue Shoes and Happiness

- Alexander McCall Smith

The Jewel of Gresham Green

- Lawana Blackwell
And truthfully...there are other books that I somehow managed to accrue and pile/stack next to my bed, but we'll just 'pretend' they aren't there at the moment and focus on the ones I want to focus on, k?