This post may contain affiliate or advertiser links. Read my full disclosure policy here.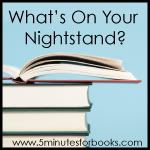 5 Minutes for Books hosts a monthly meme called "What's on Your Nightstand?" and here's what is currently next to my bed...sitting on an end table...hidden high up away from sticky fingers...
I am LOVING Finding Favor with the King and am so glad that my friend Hope has agreed to read through it with me. This is definitely one of those books that I want to savor completely and get as much from as I can. I've read and reread the first chapter 3 times and now I'm working on the second. I'm underlining everywhere, dog-earing pages and tucking away bits of wisdom for myself.

A few quotes that I loved from the first chapter 'From Peasant to Princess':
~ Most of us want to be more and live better than we do at the moment. Many of us live with the knowledge that we claim royal rank, but we act like someone more at home in the common surroundings of the world. People often have a hard time seeing any differences between us and those who make no claim to know God.

~ If we want to live in God's presence, we must make repentance a part of our daily and moment-by-moment routine. We should breathe it in and pray it out, rub it deep into our being to remove impurities and soften our hardened attitudes, and ingest it to cleanse our inward parts. (I love this quote - it comes after he talks about the use of myrrh during the time of Esther).


~ Worship covers us with the fragrance of the King! In fact, the real purpose of soaking in the oil of anointing (repentance) is to camouflage any smell of the flesh. It is what allows the King to stand to be in the same room with us!
This week I'm going to be reading chapter two in both Finding Favor as well as the Mentoring Mom book (another one that is really challenging me too right now). And since I just picked up some great books from the library and a friend, I have some fiction...should I find the time to squeeze it in!


Here's the current stack next to my bed:
The Mentoring Mom: 11 Ways to Model Christ for Your Child - Jackie Kendall
Finding Favor with the King: Daily Inspirations- Tenney
Finding Favor with the King - Tenney

The Apothecary's Daughter

- Julie Klassen

Blue Shoes and Happiness

- Alexander McCall Smith