This post may contain affiliate or advertiser links. Read my full disclosure policy here.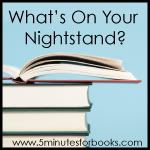 5 Minutes for Books hosts a monthly meme called "What's on Your Nightstand?" so here's what is currently next to my bed, after the changeover from last week.
I have put Finding Favor With the King on hold for a bit, because a friend and I have decided we need a little accountability and we're going to read through the book together and then have a time to sit and talk about what we've read that week. Finding Favor really has so much in it to glean and I don't want to miss out on what is in the book. The devotional is wonderful and gives little bits and bites of the book itself, but in much more manageable (and easily processed) pieces.
I did finish up The Dowry of Miss Lydia Clark by Lawana Blackwell and also Whirlwind by Cathy Marie Hake.
It was only after I was more than halfway through the book Whirlwind that I realized that some of the characters seemed familiar. I've read several of Hake's books before (Fancy Pants and Forevermore) and it took me til now to realize that the characters all tie in together.
Not that the name of the small Texas town should have given it away or anything - I'm quick like that.

In my defense it's been over a period of time that I've read the books (not recently) and to my credit I at least finally realized it! :)

This week I should be getting a few books in the mail from paperbackswap.com and I'm anxious to see those. They are fiction though...so we'll see how that goes!


Here's the current stack next to my bed (or scattered around the house):
The Mentoring Mom: 11 Ways to Model Christ for Your Child - Jackie Kendall

For You Alone

- Susan Kaye (spin off of an Austen book)

Finding Favor with the King: Daily Inspirations- Tenney
Finding Favor with the King - Tenney
Have you read any of these books? Just wondering how you liked them!