This post may contain affiliate or advertiser links. Read my full disclosure policy here.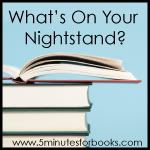 5 Minutes for Books hosts a monthly meme called "What's on Your Nightstand?" so here's what is currently next to my bed, after the changeover from last week.
I actually finished a FICTION book. A proud moment for me. Jane Bullivan't book Skydiving for Parents has now officially moved off my nightstand. I did glean some great things from this book, although since she is British it was a little difficult for me in some places (took me forever to wrap my mind around the word "bonnet" until I figured out she was talking about the hood of a car). What can I say?
I was able to read a few more chapters in two of my other more thought-intense (non-fiction)books: Finding Favor with the King as well as the accompanying devotional.
This week I'm adding some more fiction to my pile, and finishing up the third book in the Greshem Chronicles by Lawana Blackwell.

Here's the current stack:
The Dowry of Miss Lydia Clark - Lawana Blackwell
A Constant Heart - Siri Mitchell
Every Now and Then - Karen Kingsbury
Finding Favor with the King: Daily Inspirations- Tenney
Finding Favor with the King - Tenney