This post may contain affiliate or advertiser links. Read my full disclosure policy here.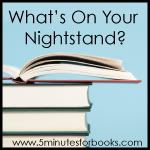 5 Minutes for Books hosts a monthly meme called "What's on Your Nightstand?" so here's what is currently next to my bed, after the changeover from last week.
Sadly, I just could do any more of Cranford by Elizabeth Gaskell. I don't know what was going on with my brain, but I dredged my way through half of it and finally decided to replace it with another book by Lawana Blackwell, The Maiden of Mayfair.
I was able to read a few more chapters in two of my other more thought-intense (non-fiction)books: Finding Favor with the King and also Skydiving for Parents, so woo-hoo! :) I also finished In the Company of Cheerful Ladies by McCall Smith. If you haven't read any books in the No. 1 Ladies Detective Series, they are pretty simple/quick reads, but the humor in them just cracks me up every time. It's so basic and straightforward and literally makes me laugh and giggle out loud. And then my husband has to listen to me try to explain why it's all so funny...and by then - not so funny.
This week I'm adding some more fiction to my pile, a series by Lawana Blackwell. She has a new series out that I would like to start and it spins off this one, so I need to read these first.
But sitting on my nightstand here is the current stack.
Here's the quick rundown:
The Widow of Larkspur Lane - Lawana Blackwell
The Courtship of the Vicar's Daughter - Lawana Blackwell
The Dowry of Miss Lydia Clark - Lawana Blackwell
Finding Favor with the King: Daily Inspirations- Tenney
Finding Favor with the King - Tenney
Skydiving for Parents - Bullivant