This post may contain affiliate or advertiser links. Read my full disclosure policy here.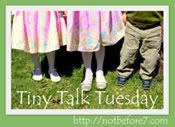 Early Saturday morning we saw a hot air balloon close to our house and the kids stood out on the porch watching it fly overhead.
Laurianna stood on the porch, her chin propped on one of her hands and said, "I've always wanted to ride in a hot air balloon. Ever since I was a child."
__________________________

My dad and mom have a dog and the kids love to play with him. More times than not, my dad will refer to himself as 'Daddy' when talking to the dog.
While Zachary was over visiting them recently, he asked my dad, "Opa, is Mommy Charlie's sister?"
{I'm really hoping that I don't look that much like the dog....}