This post may contain affiliate or advertiser links. Read my full disclosure policy here.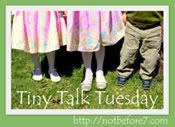 The kids are learning Bible verses as part of their Awana class and Zachary is trying very hard to learn John 3:16. And in his defense, there are some big ol' words in there for a 4-year-old.
He was trying to say it to me the other day and this is how his version goes:
"For God so loved the world that He sent His one and only Son, that whoever believes Him will not go to Paris but have ever life."