This post may contain affiliate or advertiser links. Read my full disclosure policy here.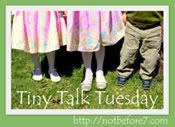 The kids went out with my mom to get me a birthday present last week...a birdfeeder. They arrived at the store a little before it opened and the kids were standing outside looking in the windows.
At all the highly breakable glass products.
Laurianna looked at my mom and said, "I don't think that we should go in there. There is a LOT of glass and we are probably going to break something."
Oh, the wisdom of an 8-year-old. Probably so. Walmart it is!
_______________________________

Zachary and McKenna were arguing back and forth about some nose-picking issues. McKenna was accusing Zachary of picking his nose.
Zachary responded with: "I don't pick my nose anymore!! Sometimes I just need to itch it a little bit. Inside."
_______________________________

Once we get the kids in bed each night we take turns praying with them. Kaleb is apparently a stickler for details and now likes to have us pray certain things each night.
The other night I apparently didn't hit all the "regular" stuff, because he wouldn't let me go and kept saying, "Dad on cass me. Dad on cass me..." It took me a minute to realize he wanted me to pray, "Thank you for dying on the cross for Kaleb."
Too sweet
.