This post may contain affiliate or advertiser links. Read my full disclosure policy here.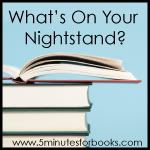 This week I really wanted to read
The Daisy Chain
because I had heard such great reviews. If you are looking for a book to drag you over some emotional coals, this is a
great
book to do it.
I really enjoyed the book, but it is definitely one of those books that takes so much of what you think you know, twists it up into a little wad and makes you rethink so much. The book didn't quite 'end' ~ wouldn't you know it's part of a series. :)
The
Twilight
series is officially over. I finished the last book early this week (yes, I loved them) ~ and while I wish there were more, I'm thankful at this point that I'm done! Crossed off my list and moving on!
This week I am going to finish up the last book in the No. 1 Ladies Detective Agency series and actually sit down and finish one of my non-fiction books (full comprehension or not). I think it will be a lot easier for me to get the overall picture and a few ideas at this point and then go back to re-read it at a slower pace and comprehend more...
Grace Based Parenting
is the one I think I'm going to fully tackle, so wish me luck!
The Mentoring Mom: 11 Ways to Model Christ for Your Child - Jackie Kendall
Finding Favor with the King: Daily Inspirations- Tenney
Finding Favor with the King - Tenney

Grace Based Parenting

- Dr. Tim Kimmel


The Miracle at Speedy Motors

- Alexander McCall Smith

Be sure to stop by and visit 5 Minutes for Books and their monthly meme called "What's on Your Nightstand?".