This post may contain affiliate or advertiser links. Read my full disclosure policy here.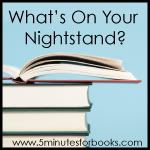 The library called and Rick was gone on a business trip.
That's really the only excuse I have for reading a 650 page book this week ~ the third book in the
Twilight
series by Stephanie Meyers. I (sadly) read the book in 5 hours and on Thursday picked up the last book,
Breaking Dawn
, to read.
The series has sadly sucked me in.
Having the chance to read on vacation and remember how much I really enjoy it has been good...but bad. :) I want to keep reading, but my body can't keep up with the late nights. I still have several books piling up on my nightstand though:
The Mentoring Mom: 11 Ways to Model Christ for Your Child - Jackie Kendall
Finding Favor with the King: Daily Inspirations- Tenney
Finding Favor with the King - Tenney

Grace Based Parenting

- Dr. Tim Kimmel


Breaking Dawn

- Stephanie Meyers


The Daisy Chain

- Mary DeMuth

The Miracle at Speedy Motors

- Alexander McCall Smith

If you have any other great suggestions, let me know!! My fiction list is dwindling.... *grins*

Be sure to stop by and visit 5 Minutes for Books and their monthly meme called "What's on Your Nightstand?".