This post may contain affiliate or advertiser links. Read my full disclosure policy here.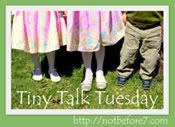 Kaleb has just been Mr. Chatty the last few weeks and it's rather fun to listen to the endless stream of conversation that he comes up with.
Fortunately for me, he feels the need to share all the important stuff too.
The boys were out playing in the backyard the other day and Kaleb came running in the house and repeating, "Start a fire."
And then something about marshmallows, but I was a little hung up on the FIRE part of his conversation.
I asked him where Zachary was and was told, "In the basement. Lookin' for lighter."
And wouldn't you know, that's exactly where I found him. Up on Daddy's workbench, scrounging for a lighter.
The boys had found every.single.stick and twig from the backyard and made a rather large pile on the patio to make a mini bonfire to roast marshmallows.
Might have just gotten away with it, if it weren't for Mr. Chatty-pants.