This post may contain affiliate or advertiser links. Read my full disclosure policy here.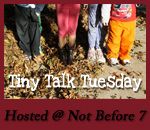 We were on our way through some lovely farmland last week and I had the windows cracked open for the boys. It was definitely farm-fresh smelling.
Zachary was making hilarious sniffing and gagging noises in the backseat and then said, "Ewww!! That cow
maneuver
stinks!"
_______________________
Zachary burned his hand last week on the stovetop ~ obviously so, because he had the lovely ring-shaped blisters on the palm of his hand to prove it. Getting him NOT to pick at them was a little difficult and I tried to explain to him that the blisters protect his new skin underneath.
A little later in the day he was staring at his hand and examining it and asked me, "Mom? How do blizzards help your skin grow?"
It was just so sweet...