This post may contain affiliate or advertiser links. Read my full disclosure policy here.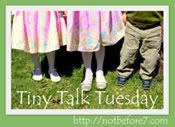 We were having a picnic/party with some friends recently and Zachary needed a little help with getting a drink. We don't usually have soda in our house and the kids rarely get it. And by rarely I mean basically never.
One of our friends was helping Zachary and he wanted soda. Tim asked Zachary, "Is it ok with your Mom if you have soda?"
Zachary: "Yes."
Tim: "I'll just check with your mom and make sure it's ok."
Zachary: "Well, actually, I think she said no, maybe."
Very, very true....
______________________________

When I recently pulled out the computer to do a search on some kid links, Laurianna saw me and said, "Mom, all you have to do is type in the word you want to find out about and
googley
it."
______________________________

The moments of Kaleb being little are quickly passing and I'm enjoying every minute of snuggling and cuddling he wants to do with me.
The other day as we were leaving church in the cold, rainy weather, he snuggled up with his face against my chest and arms tucked between our bodies and ever-so-sweetly said, "Nice and warm."
Just melts a mom's heart.
Head on over to
Mary's at Not Before 7
for some more
Tiny Talk Tuesday
!!