This post may contain affiliate or advertiser links. Read my full disclosure policy here.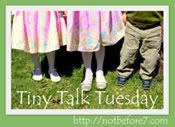 Zachary is getting pretty heavy, so picking him up is no small feat anymore, even for Rick. He asked Rick to hold him the other day and while he was cuddling up, asked Rick if he would still hold him ~ even when he was 15.
Rick said he thought it would be a little hard since Zachary would be a lot bigger then.
Zachary was quiet for a minute and said, "Yeah. You'll probably be dead then."