This post may contain affiliate or advertiser links. Read my full disclosure policy here.
We've been listening non-stop to our Seeds Worship CDs around these parts. As in all.the.time. That's a very good thing, considering it is literally Scripture put to music.
Assuming that your children are singing the correct words.
As we were listening to the song 'Be Still' from the Seeds of Praise album, all of the kids were singing along. I stopped, reveling in the fact that our kids were singing and learning the Word of God.
Until I heard Zachary singing from the backseat ~ 'You will be exalted, Momma Nature…'
The correct lyrics? You will be exalted among the nations.
Big difference, no?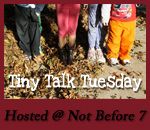 Seeds Family Worship is truly AMAZING! I am so thankful to have this resource with out kids. The company has graciously offered a 20% discount to my readers on any purchase ~ just use the coupon code HOMESCHOOLCREATIONS at checkout.