This post may contain affiliate or advertiser links. Read my full disclosure policy here.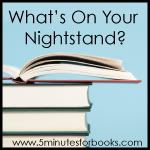 Since the Fall Into Reading Challenge is over, I figured that I would try to keep myself a little motivated in the reading department.

Maybe shut the computer down a little earlier every night *gasp* and curl up under a nice warm blanket and read a book (or two).

5 Minutes for Books hosts a monthly meme called "What's on Your Nightstand?" so here's what is currently next to my bed...and more than likely I'll be changing it over every Saturday, since fiction seems to fly off it faster than it's counterpart.

And perhaps a visual might be a little more motivation for me to actually move some of the books. While I'm at it, I might as well post the view of inside my nightstand drawer. I have such high, high hopes. :)
But sitting on my nightstand here is the current stack.
And in case those eyes of yours are having a difficult time figuring out what is in the stack, here's the quick rundown:
In the Company of Cheerful Ladies - McCall Smith
Finding Favor with the King: Daily Inspirations- Tenney
Cranford - Elizabeth Gaskell
Finding Favor with the King - Tenney
Skydiving for Parents - Bullivant

Time to read!