This post may contain affiliate or advertiser links. Read my full disclosure policy here.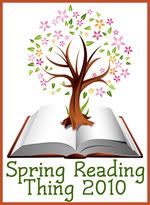 Since it's been a little over a month, I'm checking in and updating on my reading progress. I just pulled Hunter's Moon by Don Hoesel off the pile next to my bed and am starting that one next.
Here's the list of books that I started with. The newly added books are listed at the bottom ~ it's hard to resist when all these great books start popping up! The ones that have been crossed through are now completed.
Fiction
~ Here Burns My Candle by Liz Curtis Higgs ~ read my review
~ Beguiled by Deanne Gist & J. Mark Bertrand ~ read by review
~ Menu for Romance  by Kaye Dacus
~ Not a Sparrow Falls  by Linda Nichols ~ read my review
~ Hunter's Moon by Don Hoesel
~ Michal by Jill Eileen Smith ~ a story written from the perspective of Michal, King David's first wife
~ Ransome's Crossing by Kaye Dacus ~ this book is scheduled to release June 1st and I've already added it to my Amazon cart in anticipation of reading it! If you love Jane Austen books, be sure to check out The Ransome Trilogy by Kaye!
~ Eighth Shepherd / Ninth Witness / Tenth Stone by Bodie and Brock Thoene ~ all are a part in the A.D. Chronicles series
Recently added books ~ the ones I couldn't resist!!
~ Forget Me Not by Vicki Hinze ~ read my review
~ Sixteen Brides by Stephanie Grace Whitson
~ She Walks in Beauty by Siri Mitchell
~ Hearts Awakening by Delia Parr
Non-Fiction
~ Chronological Guide to the Bible from Thomas Nelson ~ read my review
~ The Heart of Anger by Lou Priolo ~Bible study time with a friend is back on soon.
~ The Bible ~ hopefully 1/3 of the way through it again by the end of the this reading challenge!