This post may contain affiliate or advertiser links. Read my full disclosure policy here.
The kids and I have been working on a new homeschool vocabulary curriculum this summer and getting into the groove of it before the school year starts up. We've been talking about and creating compound words.
The kids need to use the base word that they are given and then add a new word to it. For example, 'fire' plus 'man' equals 'fireman'.
Zachary has a little more trouble coming up with words at times so I would try to give him some hints. He came up with two words to go along with the word 'head', headband and headlight, but then got stuck.
I sat in front of him and pointed to my head and said, "I have a word for you! Mommy gets these quite a bit!"
Zachary looked at me and the light dawned in his eyes.
"Oooooo! I know!! Headlice." And he furiously began to write the word down.
Yeah. Not so much.
I was going more for HEADACHE, but it's good to know where my hygiene stands with my kids.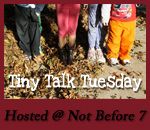 Head on over to Mary's at Not Before 7 for some more Tiny Talk Tuesday!!